Next Meeting:   Friday Aug 26th.
5:30 to 7:00 pm
---
Statement of Purpose
This two-year project, funded by the California Office of Environmental Health Hazard Assessment (OEHHA), has the primary objective of understanding the air pollution health risks faced by communities. San Ysidro as a border community located at the California/ Baja California border may face risks that are not felt by other California communities. Being close to the international border may result in exposure to pollution from lines of idling vehicles at the Ports of Entry, trade-related commercial trucks, and transport of pollutants from Mexico. Existing monitors may not be adequate to measure this impact. We will deploy a network of low-cost sensors in San Ysidro in order to:
Measure how air pollution changes over time and space.
Identify areas of San Ysidro that are highly affected.
The information collected will be used to identify the sources and levels of air pollution with the goal of developing mitigation strategies that might reduce exposure in the community. Regular meetings between the project group and the community will ensure that community concerns are well understood and being addressed. This will be a 2-year project, and funding is provided by the State of California Office of Environmental Health Hazard Assessment.
San Ysidro Air Study_Timeline.CSCUpdated082016 copy – download Air Study Timeline.
Project Roles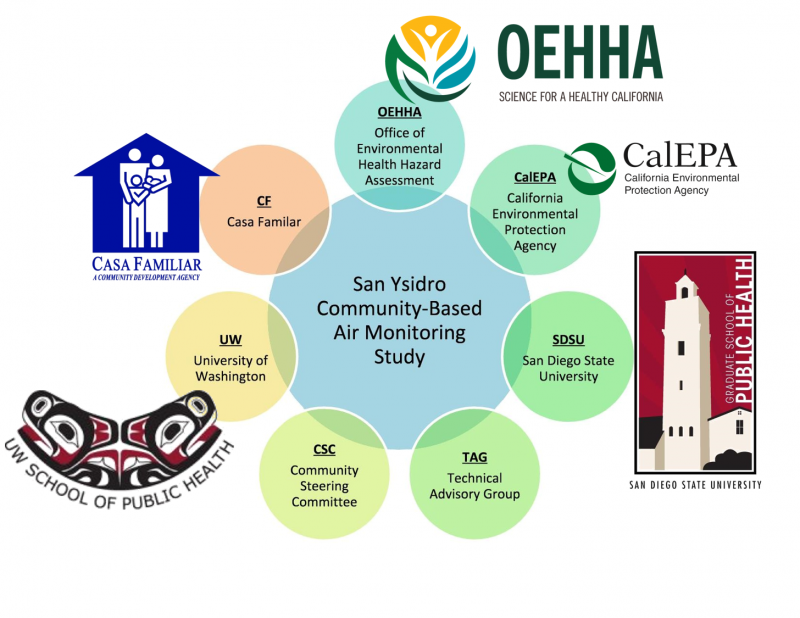 Community Partners, including Casa Familiar, will inform the main goals and objectives of this study. In addition, the community will collaborate with scientists in selecting the location of the 12 monitoring sites. Community partners will be key in disseminating results of the study, identifying mitigation strategies and leading future efforts to reduce air pollution impact in the San Ysidro area.
Scientists from the University of Washington and San Diego State University will provide both equipment and technical guidance to maximize the quality of data collected. Type of pollutants measured, location of the monitors and analysis methods will be selected to best address the concerns raised by community partners. The scientists will oversee data collection and analysis.
Project Outcomes
Project results will be shared with community partners on an ongoing basis through meetings and a dedicated website. We expect that our results will increase the community understanding of the geographic differences in the community with traffic pollutants, origins of pollutants and potential hazards to the community. Additionally, we hope to increase community knowledge and empowerment and provide guidance on future solutions.
Community Meetings
ALL SAN YSIDRO RESIDENTS and interested persons are invited to participate in a new research project aimed at investigating the distribution of outdoor air pollution in the community.
NEXT MEETING IS ON TUESDAY, MARCH 23RD 2016 AT 5:30 PM.
---
Research Team Contact Information
Edmund Seto, PhD

Principal Investigator
University of Washington
206-543-1475
---
 Penelope (Jenny) Quintana, PhD, MPH

Co-Investigator
San Diego State University
619-594-1688
---

Elena Austin, ScD
Researcher
University of Washington
206-221-6301
---
Zohir Chowdhury PhD

Co-Investigator
San Diego State University
619-594-8085
---
Vanessa Galaviz, PhD, MPH

Project Representative,
State of California OEHHA
916-323-9581

Casa Familiar Development Officer
619-428-1115
---